May 16, 2023
Roman Road Talks: Our Fluid Future
Thursday 18 May 2023 | 6.30 PM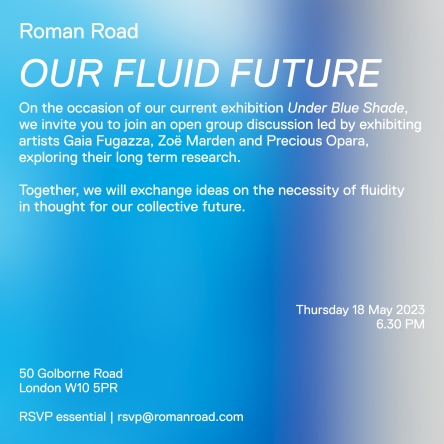 On the occasion of Roman Road's current group exhibition
Under Blue Shade
, we are pleased to invite you to join us for an open group discussion focussing on the necessity of fluidity in thought for our collective future, led by exhibiting artists 
Gaia Fugazza, Zoë Marden and Precious Opara.
Queerness, fluidity and the sea have been long intertwined. The waves are a liminal space, not bound to the rules of the societies on land. Under the blue shade of the sea is a place away from expectations and any labels of society. A space free from categorisation. Imagination. Wonder. Freedom. Boundless.
Speakers will explore themes including the beauty of queer sexuality, notions of water as a collective truth and our universal reckoning with climate change.
Our Fluid Future is a part of programming to accompany Roman Road's exhibition Under Blue Shade, curated by Mollie E Barnes.