Apr 18, 2023
Roman Road Events: Curated Screening and Afterparty
Saturday 22 April 2023 | from 4.30 PM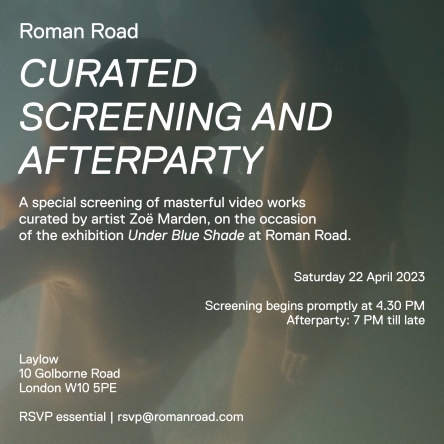 On the occasion of Roman Road's new group show Under Blue Shade, we will be hosting a special screening of video works curated by artist Zoë Marden, followed by an afterparty at Laylow on Saturday 22 April 2023, from 4.30 PM.
 The presented works will explore the fluidity of alternative worlds, aquatic landscapes, liquidity and the ebbs and flows of the tide.
Film works exhibited include those from Billy Klotsa, River Cao, Evi Kalogiropoulou, Gray Wielebinski and Iria Vrettou. The series will also specially include Marden's short experimental work Becoming Creature (2022).
Please note there will be two screenings; the first begins at 4.30 PM and the second at 6 PM.
The afterparty will ensue at the venue from 7 PM.
Laylow
10 Golborne Road
London W10 5PE
Under Blue Shade, curated by Mollie E Barnes at Roman Road, will remain open at the gallery throughout the event.
RSVP essential to rsvp@romanroad.com
Please indicate which screening time – 4.30 PM or 6 PM – you would like to attend in your RSVP.