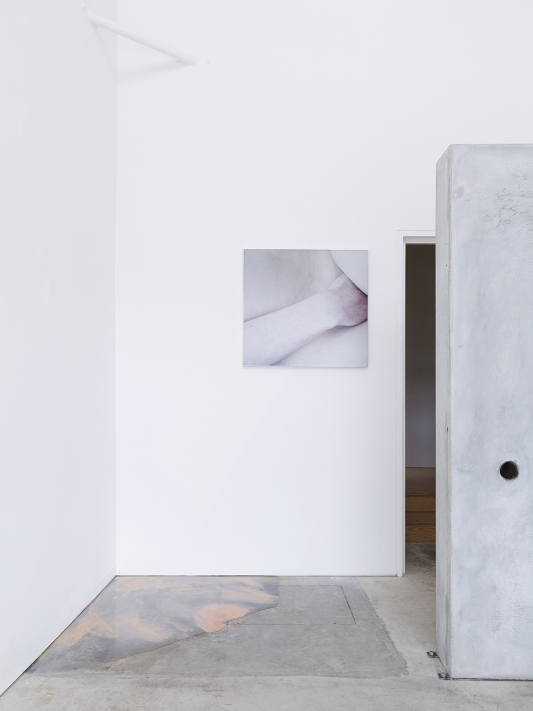 Roman Road is pleased to present MDAM, a duo exhibition by Mia Dudek and Alix Marie, two recent graduates from the Royal College of Art, London. Through the display of the artists' new works, the exhibition addresses themes of postgenderism and considers how humans are progressively losing contact with the physical body through the increasing automation of sexual pleasure.
Mia Dudek (b.1989) is a Polish artist based in London whose practice is directly influenced by mass housing constructions and the global phenomena of urbanisation. She explores existential encounters of the body and the alienation of the individual within urban fabrics. Dudek graduated from the London College of Communication in 2012 with a first class honours degree in photography and recently completed an MA at the Royal College of Art, London, as a recipient of a scholarship award for her distinctive portfolio. Through her practice she investigates the idea of assemblage and connection between synthetic materials and different photographic techniques. Dudek's work has been featured in a number of exhibitions around Europe as well as in publications, including 24 Artists to Watch (Modern Painters, December 2014).
Alix Marie (b.1989) is a French artist whose work, engaging with the mediums of photography and sculpture, is rooted in her explorations and notions of architecture and the body. She graduated from Central Saint Martins College in 2011 with a first class honours degree in fine art and later completed an MA in photography at the Royal College of Art, where she received a distinction for her dissertation work about photography and fetish. Her work considers the photograph as object and she continues to take her practice forward into new directions by investigating the medium's potential for materiality and three-dimensionality. Marie has featured in exhibitions around Europe, Asia and in Morocco, and has taken part in a number of international residencies. She recently won the 2017 Portfolio Review Award and will have a solo show as part of the Düsseldorf Photo Weekend in 2018.