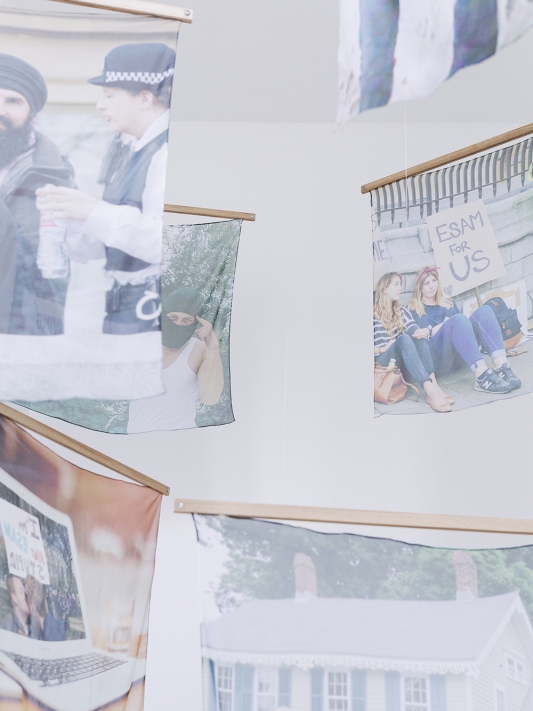 Taking its title from the artist's new, presented series, Complex Problems, Simple Solutions amplifies Tom Esam's continued investigation and interest in rhetoric, more pertinently in the role of slogans in political campaigns.
Often using his surname and image in his artworks, Esam's contemporary works highlight the ways in which slogans and imagologies in advertisements can create covert systems of ideals and anti-ideals that aim to influence our behaviours and opinions. With his Complex Problems, Simple Solutions (2016) he expands on the use and effect of slogans in our national, political discourse, urging us to consider how these propagandist tools appeal to populist sentiments and often focus on spectacle rather than reasoned debate.
Printed on silk and displayed on wooden hangers suspended from the ceiling, the works in the artists new series present images of people holding up signs on which he has Photoshopped his own statements. Phrases such as 'Let's Stay On The Road To A Stronger Esam' and 'Trust Esam, He Will Steer You To Safety' arrest our gaze: a parade of nonsensical hyperbole for his beguiled audience.
Through a barrage of Esam's sloganised statements, this exhibition aims to elaborate the debate about political rhetoric and at once raises the question of whether Aristotelian persuasion is a more effective tool to engage the public, rather than just making assertions or promises.
Tom Esam (b.1986) is an artist and curator living and working in Berlin, Germany. Since completing his BA in Fine Art at Kingston University with a First-class honours degree, he has exhibited widely in solo and group shows around Europe and the United States. In early 2016, Esam participated in the Waaw residency in St. Louis, Senegal, which inspired him to create his new ESAid (2016) – an ongoing series of thought-provoking works that expand on his current interest in charity and political discourse. Recent solo exhibitions include Imagology at Mario Iannelli Gallery in Rome and You Need To Know I'm Much Better Than You, a pop-up event in Miami, Florida hosted by Roman Road.